Back to School: Tips for Parents and Teachers – Part 2
You've gotten your child ready for the first day of school, but is the school ready for them? Read these tips for the parents and educators of trans youth.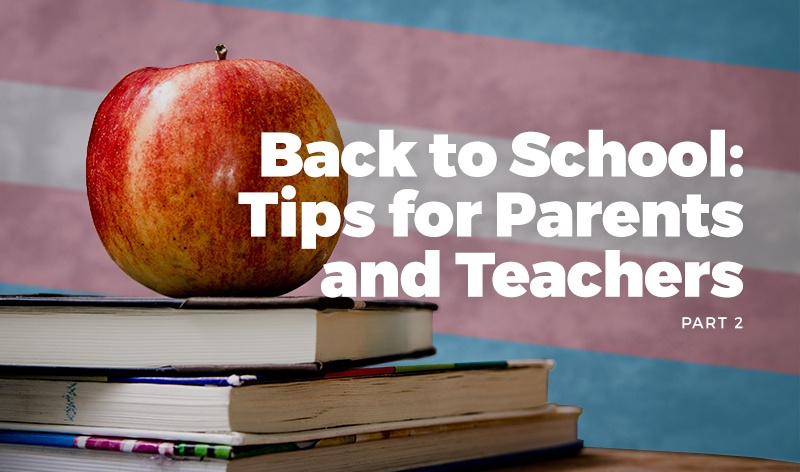 While you may have gotten yourself or your child ready for their first day of school, the school may not be ready for them.
Preparation for the first day is not one sided, but instead must be a team effort. Laws and policies change through advocacy and community building. A person may seem supportive and welcoming, but if there are no trans-affirming policies on record in a school district, then support may evaporate if educators follow outdated or hearsay policies.
Parents: Be Proactive
If you are a parent feeling unsettled about whether or not your school is ready to receive your child on the first day, go find out.
All schools have summer office hours and principals are 12-month employees. You should be able to make an appointment to meet with an administrator.
Before this meeting, do your homework and think about your vision of what a successful school year looks like for your child.
School board meeting minutes are open to the public and are a great place to see whether or not protections for transgender and gender non-conforming/non-binary students have ever been discussed.
There have been a great deal of school districts that put protections in place specifically outlining policies for trans students after the Obama administration asserted that students should receive equal protection.
While the current administration redacted that belief, most school districts continued to assert their support for all students. In addition to policies on the books,

ask if there are any staff members that are LGBTQ and if those staff members are comfortable meeting with you.

LGBTQ staff members can be good indicators of a supportive school.
If your district has these protections, read the document and make a note of any questions you may have or descriptions of how these policies will apply to your child. The school may know the policies exist, but it could be the first time they are implementing them. While I hope that your child's school will take the initiative to educate themselves after meeting with you, there still may be a need for a brief "Trans 101" with the school staff that will be interacting with your child. These may all be items that seem like one time things to check off a preparation list, but a relationship with your school that continues through the year is vitally important to a successful year no matter the student.
However, more likely than not, your child's school district may have no specific policy for trans and gender non-conforming students. If you can't find anything in your research, go into a meeting with your own policy drafted. Write out what a great day would look like for your child and what access your child would need to be a full member of the school community. I am sure that you will hear a tremendous range of responses, but at the end of the day, it is a school's responsibility to keep your child safe: they must answer that question fully and to your standards. In some areas, there are community groups working to make change and lobby their school districts. You may not be working toward change alone. Combine forces with other individuals and families in order to create a united front for change in your school community.
Teachers, how do you get your classroom ready?
Preparing for a school year can sometimes feel more overwhelming than the school year itself. A carefully constructed classroom will allow students to feel comfortable and welcome in their learning environment.
First, assess your visuals. Are there posters in your room? Do they show a diversity of important figures? Do your posters reflect your students?
Next, think about your systems and procedures. Most activities throughout the course of the day require dividing students into groups for one reason or another. Do you rely on splitting up groups into boys and girls? Teamwork and community are important in a classroom. As you think through groups and divisions, where can you give groups fun names or create teams?
Then, check out your classroom library. Do your students have access to books that expose them to a range of stories and authors? Most classrooms have ample time written into their day for independent reading. A diverse classroom library gives students the ability to choose books that they can connect with or experiences they may have never had.
Ask yourself: what are you actually teaching students? Be mindful of your examples and the names you put on paper. Think about the historical figures you highlight in your classes. Are they representative? Does your curriculum tell the whole story? (i.e. if you talk about technology, don't hide that Alan Turing, the man credited with creating the technology that created the computer, was gay and was prosecuted for "homosexual acts.") Do you speak about "girl things" or "boy things"? Are you always choosing boys to lift or move things, or are you always choosing girls for tasks like filing classroom paperwork?
Finally, find out if your school has a Gay Straight Alliance (GSA) and consider volunteering as an advisor. A representative classroom and supportive school are the greatest things for a child to learn from, but students need a chance to connect with their LGBTQ peers. Plus, your presence as an advisor gives students a trusted adult to connect with.
Put it all together
Each of these points, whether they are directed toward a parent or teacher, come with their own set of deeper instructions. Take these ideas as starting points to conversations that could go splendidly or not so splendidly. Don't be discouraged. Advocate for your child. Be your child's champion. Be your students' champion.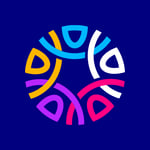 Written by Point of Pride
Point of Pride provides financial aid and direct support to trans folks in need of health and wellness care.