About the program
Point of Pride provides free femme shapewear (specially-designed compression underwear/gaffs) to any trans femme person who needs one and cannot afford or safely obtain one.
To get a free shapewear garment, please carefully read this page, then complete the Google Form linked at the bottom of this page.
Requirements
We have only two requirements in an effort to be as inclusive as possible:
You identify as transgender (MTF, genderqueer, non-binary, genderfluid, gender non-conforming, and every other non-cis identity assigned male at birth within the trans umbrella.)
You cannot afford to purchase femme shapewear, or you cannot safely obtain femme shapewear.
We accept all requests for support, and applications are open year-round. Once you complete your application, your request will be added to our waitlist. Shipping is discrete and 100% free, and we ship internationally to 90+ countries and counting.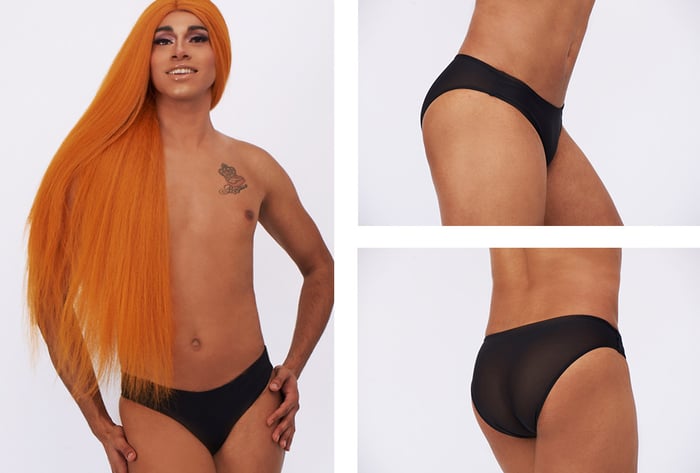 Self-assessment
This program is intended to help trans folks who otherwise can not afford or access femme shapewear. We ask that you consider your access before applying.
Are you able to pay for a tucking undergarment? (We recommend our sponsor and partner

Origami Customs, a trans-owned apparel company that produces high-quality, affordably priced garments.)
What to expect
Submitting your request
Carefully read this page, especially our Frequently Asked Questions section.
Measure yourself.
Submit your application via the Google form. Once you submit, you'll automatically be added to our waiting list.
You will receive an email* from an "@pointofpride.org" account when your garment is ready to be shipped. At that time, you can review how your name should appear on the label, what mailing address we should use, and what size garment you need. You can make updates or changes at this time.

We mail out your package! You will receive another email from an "@pointofpride.org" account with your tracking number. You can enter the tracking number

via USPS

and set up text or email alerts for your package. (Tracking numbers can take up to 24 hours to fully activate and the USPS site may list the package as "pre-shipment" until it activates.)
*Because our team will contact you via email, please check your spam folder and the quota limit on your inbox to make sure it hasn't been filtered or bounced back. You may need to search for email accounts that end in "@pointofpride.org" or update your settings to allow emails from "@pointofpride.org" accounts. Please note that in most instances of applicants missing status updates, the result is due to spam filters. To help us focus on supporting our community, we strongly encourage checking your account for any missed messages before reaching out. From all of us at Point of Pride, we are deeply appreciative of your patience and understanding.


Wait time
Please check our Program Status Dashboard to see what requests we are currently processing. Although we mail out about hundreds of garments every month, we average 75 new garment requests every single day. We know our waiting times are extraordinarily long, and we are working as hard as we can to meet the demand. Thank you for your patience!
Measure yourself
Place a measuring tape around your hip where the waistband on the underwear will sit. If you do not have a flexible measuring tape, you can use a string to measure and then compare that to a flat ruler to get your size. (For additional sizing and product details, view Origami Custom's fit guide.)
| Size | Hip Where Waistband Sits |
| --- | --- |
| XXS | 28″ inches |
| XS | 30″ inches |
| Small | 33″ inches |
| Medium | 35″ inches |
| Large | 38″ inches |
| X-Large | 40″ inches |
| 2XL | 46″ inches |
| 3XL | 49″ inches |
| 4XL | 53″ inches |
| 5XL | 58″ inches |
Notes
Your name as it appears on the shipping label: It does not have to be your legal name unless your mail system requires that. For some folks not public or out, this may be your deadname. You should put whatever name feels safest and easiest for you to receive mail with.
Your email address: We recommend that you avoid email addresses on private domains or school email addresses (for example: @k12.state.us) as these sometimes have admin settings that block our emails.

Our most common rejected emails are from private domains that don't allow emails from external senders.

Updating your request after submitting: You can resubmit the request form using the same email address you originally signed up with. Any changes made will be associated with your original request, and you will not lose your place on our waiting list. Or, you can wait to edit your request when your garment is ready to ship. You'll be asked to edit or approve your name, mailing address, size, etc. before your garment is mailed. If you need to change your email address, please contact us.
FAQ
"What kind of garment will I receive?"

We source hipster and thong garments from our friends at Origami Customs. You'll have the option to choose which style you want, or choose no preference. (The hipster cut provides more modest back coverage.) All garments are black in color.
"What does packaging look like?"

Packaging for our mailed garments is extremely discreet. Your items will be shipped in a plain white mailing envelope. The sender's name is "Point of Pride." Nothing with the words "LGBT" or "trans" appear on the packaging. To comply with U.S. Postal Regulations, we cannot change the sender name on the package.

The package is flexible and will fit inside of most PO Boxes. For street address deliveries, it is usually left inside the mailbox (or on the porch/inside the door in the rare event that the mailbox is too small). Signature is not required.

If international, the customs form will list the contents as "underwear" and will have the item marked as a gift, but you'll still want to check with your country's customs office for how the customs process may affect you. Many of the provided tracking numbers stop working once the package leaves the US, so you may want to check with your local postal service to determine the best method for tracking your package once it's left the US.

The package will contain your garment, an informational card on safer tucking techniques, 1-2 stickers, and a note of support meant to brighten your day (written by other trans people, volunteers, and community members.)
"How do I wash or care for my garment?"

We recommend you wash in cold water and hang to dry.
"Can I have my shapewear shipped to a trusted friend or relative?"

Yes. We can ship your garment to a friend, family member, or another trusted person. Please complete the application with your friend's mailing address, but put your information (such as your email address) for all other fields on the form. Please ensure you have the permission of your friend or relative before listing their address on your request.
"Can I have my shapewear shipped to a post office?"

Yes. We can ship to any valid mailing address. However, it is your responsibility to contact your local postal service and determine exactly how they need the address to be listed on your envelope in order for it to arrive successfully and be available for you to pick it up. Be sure to ask if they have any requirements such as needing to show ID when picking up your package, so that the name on your package matches the name on your ID.
"I have a medical condition. Is it safe for me to use a tucking undergarment?"

We are not, nor do we claim to be, healthcare providers or medical experts in any capacity. We also recognize that there is appallingly little research done that recognizes our community and that for many of our applicants, there are significant barriers to accessing knowledgable and affirming care. As much as we empathize with the challenges faced by so many in our community, we are unable to make any recommendations whatsoever for individuals with pre-existing conditions, as that would be outside the scope of our ability to support. We simply do not have the resources to provide any recommendations specific to your unique situation and we firmly believe that your health is too important to entrust to someone who does not have the knowledge and experience required to support you. If possible, we encourage you to speak directly with your healthcare provider.
"I don't need a garment anymore. How can I cancel my request?"
"Is there an age requirement?"

No. Anyone of any age may submit a request. However, in order to comply with U.S. state and federal regulations, if you are 13 years of age or younger, we can only accept your request with the consent of your parent or legal guardian. Please note that you have consent in the written responses of your application.
"Is shipping free?"

Yes, Point of Pride pays for all shipping and processing fees. (For international recipients, your country may assess additional/separate fees, tariffs, or taxes; these expenses cannot be paid for or reimbursed by Point of Pride. We'll remind you to double-check your country's customs policy when you request your garment.)
"Do you ship internationally?"

Yes. We are fully international and can ship anywhere USPS will deliver.
"Can I get more than one gaff?"

While we understand many of us prefer or need multiple garments, we also must balance that with the knowledge that many of the folks on our waiting list don't have access to a single garment. As a result, we limit our program to one free femme shapewear garment per household. If there are extenuating circumstances or multiple people living in a single household who each require a gaff, please

contact us

before filling out the request form.

The following reasons do

not

constitute extenuating circumstances:

Multiple gaffs for laundry day
Multiple colors needed/wanted
Multiple sizes needed/wanted
Submit your request
Tucking Safely
Wearing this undergarment can help to reduce dysphoria and help you be more comfortable. The most important thing is that you do it safely.
This asterisk (*) is used to acknowledge the many different words that are used for this body part.
Tucking 101
You can begin by tucking the testes.* The testes* will slip back up into the inguinal canals: use two or three fingers to guide them up to their corresponding canal. Don't rush and listen to your body. If there's any pain or discomfort at all – stop, take a short break, and try again.
Next, the penis* can be pulled back between your legs. Don't force or pull hard. Everything can be held in place with these panties, and the fit should be snug but not overly uncomfortable.
Where we tuck tends to be a place where we sweat a lot. You want to keep skin cool and dry. Take a break when you're alone or wear loose clothing when it's not as important to be tucked. To avoid chafing or prevent a skin infection, always check for any open or irritated skin before and after tucking.
Tucking & Fertility
Tucking may affect your fertility. For trans folks who may want to have biological children someday, it's recommended you tuck sparingly or (if you're able to afford it) consider banking sperm.