About the program
Point of Pride's HRT Access Fund is a scholarship-like program that provides direct financial assistance to trans folks who cannot afford their gender-affirming hormone replacement therapy (also known as "HRT.")
In partnership with Plume, recipients will receive 12 months of:
medical care through initial and regular telemedical visits
3x year lab work and monitoring through Quest Diagnostics
24/7 text access to our predominantly trans care team
any medical letters you may need related to your transition
prescription cost coverage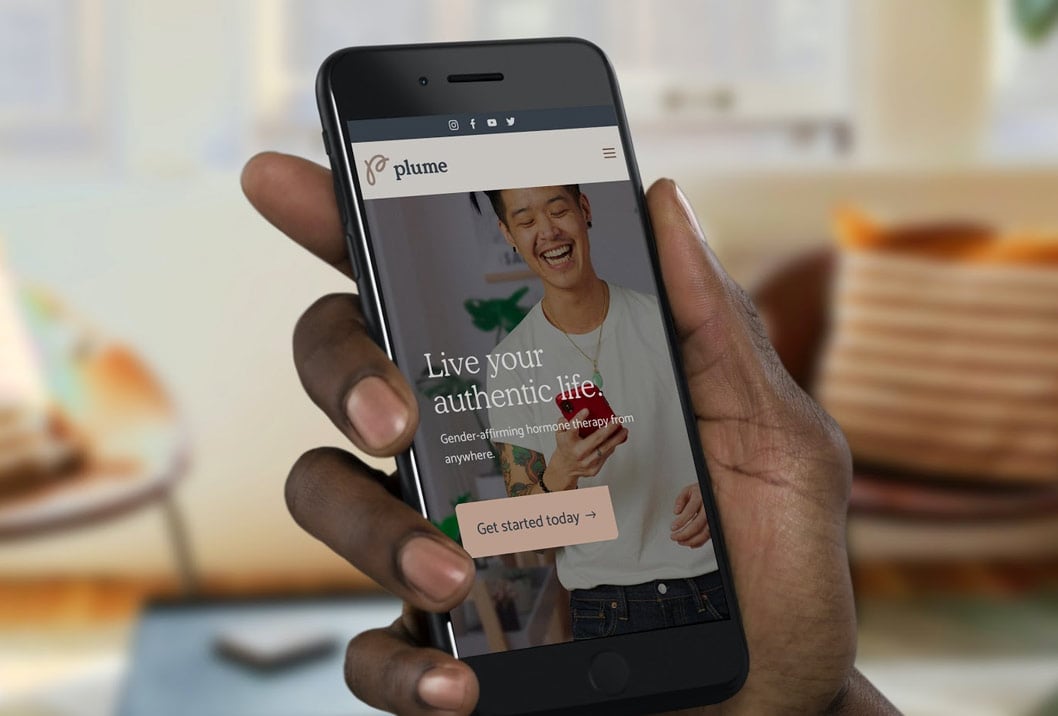 Requirements
We have very few requirements in an effort to be as inclusive as possible:
You identify as transgender (FTM, MTF, non-binary, genderqueer, gender non-conforming, and all other non-cis identities).
You have financial need that prevents you from affording hormone replacement therapy.
You are 18 years old or older at the time you apply.
You live in one of the states Plume serves (View map).
You are not currently on Medicare.
If you live in CO or KY, you are not currently on Medicaid.
Important Notice:
At this time, the fund is available to individuals 18+ (19+ in Nebraska) and within the current service area of Plume. Check this map to see if Plume covers your state.
Due to state regulations, we unfortunately cannot accept applicants who live in CO or KY and are currently on Medicare or Medicaid.
Plume is available to over 90% of the US trans population* and is working to rapidly expand their services in accordance with state regulations. Individuals seeking care are encouraged to follow Plume (Facebook / Instagram) and Point of Pride (Facebook / Instagram) to see when their state is added to those served by Plume if coverage is not currently available. During the open application period, Point of Pride will be updating the form when states are added, at which point residents of any added states are encouraged to apply.
We recognize that all trans and gender expansive folks deserve access to knowledgeable and affirming care, and will continue to work towards more comprehensive coverage.
*Based on the Williams Institute survey that estimates the trans population in every state and nationally.
Self-assessment
This program is intended to help trans folks who otherwise can not afford gender-affirming surgery. We ask that you consider your access to healthcare before applying for this grant. Here are some questions to consider:
Do you have health insurance coverage that is trans-inclusive?
If not, do you qualify for Medicaid? (Learn more)
Do you live in a state whose Medicaid plans cover HRT? (Learn more)
Are you employed and able to pay for HRT out of pocket?
Are there nearby clinics that offer HRT with informed consent?
Do you have reliable transportation options to access a provider?
Do you consider yourself healthy and able-bodied (i.e., not living with a chronic or long-standing illness)?
Do you identify as white, or do you experience white/light-skinned privilege?
If you answered YES to most of these questions, you may consider making space for our trans siblings who mostly answered NO. (Even if you answer YES to most or all of these questions, you are still eligible to apply.)
Application process
Applications are open in the summer (date TBD). All applications must be submitted online.
Carefully read this page, especially our Frequently Asked Questions section.
Review our

Instruction Packet, which walks you through each question of the application form.
Submit your application via the Google form.
What to expect
Once the application period ends, our Board of Directors and team of Community Grantmaking Fellows (trained volunteers) evaluate each and every application received. This process is necessarily difficult and time-intensive, so thank you for your patience!
If you are selected as a finalist, or if our reviewers determine they need additional information,

you will be contacted via email 4-12 weeks following the application deadline. You may be invited to submit additional writing samples and/or participate in a brief phone or online interview.
If you are selected as a recipient,

you will be contacted via email 4-12 weeks following the application deadline.

Through working with Plume, your individualized needs will be addressed by a gender-affirming provider. Part of your grant award will be paid directly to Plume for establishing medical care, initial and regular telemedical visits, 3x year lab work and monitoring through Quest Diagnostics, 24/7 text access to our predominantly trans care team, and any medical letters you may need related to your transition. Point of Pride will work with you directly to identify and cover the costs of your medication. The full details of your award will be explained in your recipient agreement.
If you are not selected as a finalist or recipient,

we will notify you via email, and you are welcome to apply again for our next application cycle.

(Note: Our team stores your application materials for a full year, and we continue to pair candidates with financial assistance as we receive grants, resources, and new opportunities. You may be contacted later in the year via email. Review our

Privacy Policy

.)
For even more detail, this resource serves to provide complete context and clarity around our financial assistance programs, and why we have certain requirements or parameters in place.
Notes
Privacy and safety:

We know many applicants feel vulnerable in sharing their experiences, and we take this very seriously. Anything you share with us in your written responses will be kept strictly confidential and private. Recipients will have the opportunity to publicly share their stories in the way that feels safest and most affirming for them, as well as hide identifying information if preferred.
Language:

Our application is not an English test. We will not consider grammar/spelling or writing ability when reviewing your responses. Above all, please give us detailed, thorough responses so we understand your unique situation. We hope to provide full translation support in the future.
Equity:

Our organization prioritizes equity as one of our

guiding principles. Your application will be assessed on the responses you provide and in accordance with this guiding principle. Point of Pride does not discriminate based on age, race, ethnicity, gender, or any other identity.
FAQ
"Can I apply if I have health insurance?"

Yes, you may still apply (as long as you are not on Medicare or Medicaid, due to state regulations.)
"Can I apply if I'm not 18 years old?"

Unfortunately, no. We are so excited to hear that more parents and guardians are interested in supporting those under the age of 18 in pursuing affirming medical care. However, due to current legislation, Plume is unable to provide care to minors even with parent or guardian authorization. We are continuing to monitor the situation and look forward to the day when we can allow minors to apply.
"Can I apply if I live in a different country?"

Unfortunately, no. At this time, all applicants must reside in the United States within the current service area of Plume. Check this map to see if Plume covers your state.
"Can I apply to pay back expenses for HRT/medical services I've already had?"

We understand the challenges of debt and medical loans that so many of us deal with in order to afford care. Unfortunately, no; you must apply for financial aid towards future access to HRT and medical services.
"I need puberty blockers. Does this program cover them?"

Unfortunately, no. At this time, puberty blockers are not covered.
"When will I receive a response about my application?"

You will receive an email from an "@pointofpride.org" account about 2 months from when the application cycle ends. (Please check your spam folder and the quota limit on your inbox to make sure it hasn't been filtered or bounced back. You may need to search for email accounts that end in "@pointofpride.org" or update your settings to allow emails from "@pointofpride.org" accounts.)
"When are recipients selected?"

Typically, recipients are selected and announced about 3-4 months from when the application cycle ends. We are a volunteer-operated non-profit, so sometimes it can take longer as we process the high volume of applications. We appreciate your patience!
"Why isn't Plume/this program available across the US yet?"

At present, different states have varying legal requirements for Telehealth (including some states explicitly preventing e-prescribing Testosterone). Plume is working to comply with all Telehealth laws, as well as meeting any additional requirements in order to expand to states they do not presently cover. Additionally, due to legal requirements for providing hormone replacement therapy, Plume must have at least one clinician who is licensed in that state in order for a state to be covered. As part of Plume's commitment to serving the community with the care, experience, and knowledge that trans and intersex folks everywhere deserve, they are hiring predominantly trans clinicians (and will consider non-trans clinicians with extensive experience working with our community). Your physical and mental health is too important to entrust to a provider who doesn't have extensive knowledge and experience. Plume is working tirelessly with a goal of doubling their coverage within the next 6 months and continuing to expand so that they are able to provide gender-affirming care anywhere they are legally able to do so in the United States. If you are a clinician specializing in trans care (or if you know someone), please get in touch! You can email

hello@getplume.co

.
"I'd like to nominate someone to receive funding."

It's wonderful that you'd like to support trans loved ones in your life to help them access the care they need. However, our program does not take nominations into consideration when awarding financial aid. To be considered, your friend will need to personally submit an application. This helps protect your friend's privacy, safety, and comfort, and keep our processes as fair as possible for all applicants. Thank you for your understanding!
"I've missed the application window deadline. Can I submit a late application?"

Unfortunately, no. Please apply during our next application cycle.
"Can I apply this cycle if I have applied in the past?"

Yes, you are welcome to submit an application every cycle.
"I've made a mistake on my submitted application. Can I edit it?"

Unfortunately, no. All submitted applications are final, and you cannot edit your responses. If you are selected to move forward as a finalist, you will be invited to review and provide updated information at that time.
"Can I submit an application on behalf of someone else?"

We recognize there may be barriers that prevent someone from submitting an application on their own without help. You may submit an application on behalf of someone else only if you are working directly with the applicant and clearly reference their involvement in completing the application. (For example, if you are providing technological support, language translation, or other assistance on behalf of the applicant, please note your role and that the applicant is still the primary author of their responses.) However, you may not submit an application without the applicant's involvement. (For example, applying for a loved one without their knowledge.) While we understand the desire to surprise someone with a grant, our process builds on the fundamental idea that trans people are our own best advocates: we want to ensure that this belief is reflected throughout the application process.
"Can I apply if I'm currently a Plume subscriber, or if I've used Plume in the past?"

Yes, you are still eligible to apply.

For current customers: if awarded funding, your 12-month grant period will go into effect immediately. Billing will pause for the duration of the grant period, and will resume again when the grant period ends.
For past customers: if awarded funding, your account will be reactivated, and your 12-month grant period will

go into effect for your next billing cycle and continue for 12 months

. When the grant period ends, billing will resume. (You may have to re-authorize your payment details on file in order to continue your subscription.)
Apply
Applications are currently closed. The next cycle will begin summer 2023. Please stay tuned for more details soon.
Meet past recipients
To date, we have awarded over $100,000 in financial assistance.