Support trans folks by hosting a fundraiser for Point of Pride
Are you looking for a special way to celebrate your birthday? Running a marathon or obstacle-course race? Seeking a special way to honor a loved one?
Hosting a fundraiser is a great way to have a lot of fun while also supporting trans folks in need of life-saving support.
The money you raise will sustain our current work and support future growth, enabling more members of our community to access the health and wellness services they need.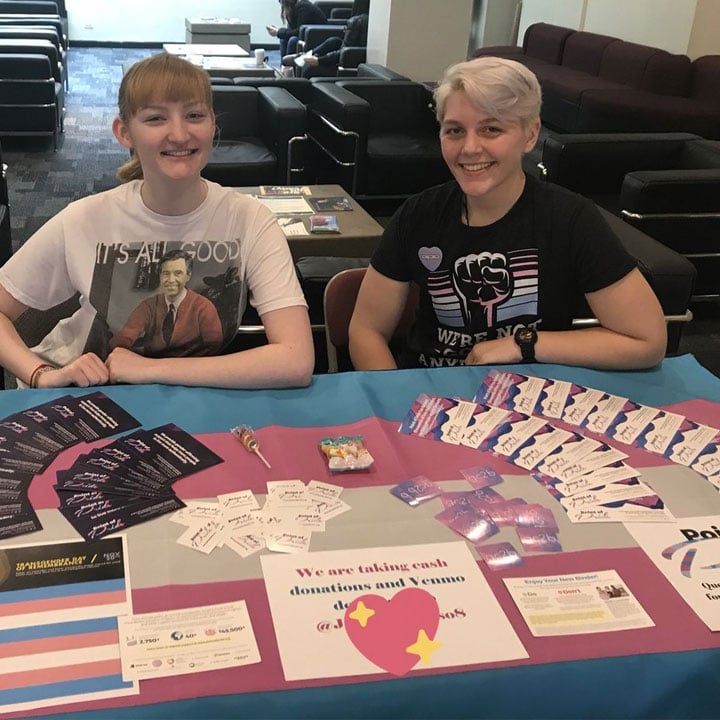 Facebook Fundraisers
Facebook Fundraisers makes it easy to create your fundraiser and invite your loved ones. No transaction fees; 100% of donations go to programs.
GiveLively
GiveLively provides a secure, non-social media based online platform. No transaction fees; 100% of donations go to programs. Plus, donors can dedicate their gifts in the name of a loved one, and have suggested donation amounts.
Fundraiser Ideas
1. Donate your birthday
Ask for donations in lieu of gifts. Consider using the age you're turning as the suggested donation amount. People are inspired by your decision to turn a day about you into a day about an important cause, and will want to support you!
2. Throw an event
Another great opportunity to do something creative and community-building: there are so many different events you can host. Suggest donations for attendance and tell folks it's in support of a great cause, then bring on the energy! Here are some examples of events others have thrown:
Big events: film screening, local walk or marathon, music concert, sports tournament
Medium-sized events: open mic night, drag bingo night, dance party, raffle or auction at your school or community group, trivia night, fashion show
Small events: virtual hangout, dinner at a restaurant or in your home with loved ones, GSA bake sale
3. Take on a challenge or achieve a goal
Maybe you've always wanted to try a new hobby, or reach a new goal with an existing hobby. Or maybe there's something in your life you'd like to change. We've seen folks run marathons, finally quit smoking, cut back on caffeine, learn musical instruments, and more! Every time you hit a new milestone towards your goal, you ask your network to sponsor you.
4. Honor a loved one
Dedicate your fundraiser to someone who has had a positive impact on your life. It can anyone, like a transgender role model or leader that has inspired you, or a friend or family member who has supported your transition. Celebrate them by sharing a personal story or reflection about what this person means to you.
5. Do something wacky
Put on a costume and run a marathon. Try a polar plunge. Dye your hair in the trans pride colors. For this, the sky's the limit: set a fundraising goal and promise you'll do the wacky thing if you meet the goal. Be sure to document this one—and definitely share it with your network of supporters as well as Point of Pride!


Suggested goals
Your donors will want to know precisely how their contributions are making a positive impact. Here's a breakdown:
$100


Ships 25 chest binders to trans youth and adults around the country.
$500
Provides a trans femme person with 5-10 permanent hair removal sessions they cannot otherwise afford.
$750
Purchases and ships 40+ chest binders to trans youth and adults around the world, or ships 185 pairs of shapewear to trans femme folks around the world.
$1,000+
Provides life-changing financial assistance to a trans person who cannot afford a gender-affirming surgery.
$2,500+
Provides 5 trans femme people with grants for permanent hair removal services they cannot otherwise afford.
$8,000+
Fully funds a surgical procedure for at least one Surgery Fund recipient.
Get started!
If your event is open to members of the public, tag Point of Pride on Instagram, Facebook, and Twitter so we can see the details and signal boost to help spread awareness!
We have informational posters and flyers you may download and print for your event.
Have questions about your fundraiser, or want to designate the funds raised to a specific program? Contact us
Process your donation
You may make your donation online, or mail a check payable to Point of Pride to one of our locations:
West Coast: PO Box 10991, Eugene, OR 97440
East Coast: PO Box 7824, Newark, DE 19714