Write Letters to Trans Folks
A reminder that recipients are seen, supported, and valid is a powerful message for trans folks.
Would you or your community group like to support trans folks? You can create affirming handwritten notes for trans youth and adults, which Point of Pride includes along with donations of free chest binders and femme shapewear.
What to write
Consider sharing positive experiences around your own experience, especially if you are in a space that you never could have imagined when you were younger.
Let recipients know that they are valid and valued.
Speak from the heart and share what you would tell a friend or what you would want to hear yourself when you were going through a difficult time.
Each card can be unique, or you can write the same message on each card.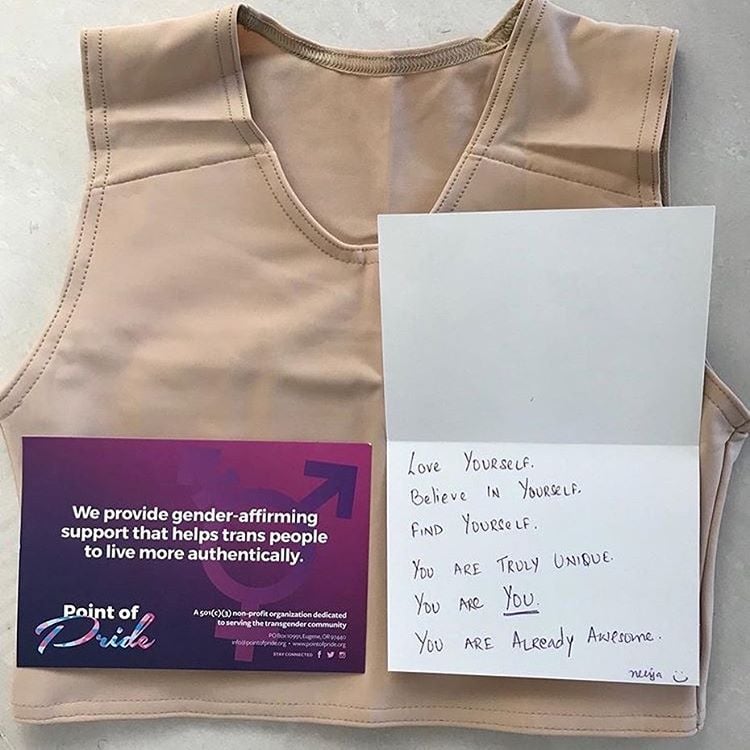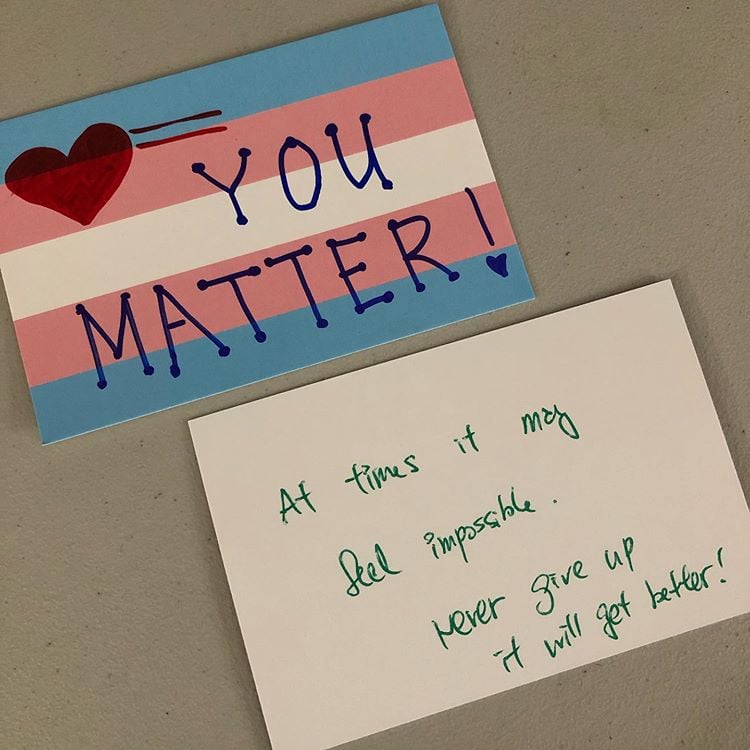 Keep in mind
The message must use encouraging and positive positioning. (Think "You're awesome!" and not "You're not a bad person.")
Keep your message vague enough that the card won't out anyone as trans to unsupportive family or roommates.
Be careful not to infantilize the message or card.
Your message can be a quote, an original thought, or a combination of the two.
Avoid identifying information. (First name and home state/country is okay, if you choose to sign the card and add a bit of personalization.)
Getting started
Be as creative as you like! You can write your messages on whatever paper you'd like (construction paper, note cards, folded greeting cards, etc.). Feel free to use markers, stickers, etc. but please do not include glitter or cards with lots of 3D embellishments, which can cause issues when mailing them. Please do not put cards in envelopes.
You can download one of the templates below and print them at home or at an office and printing service store (i.e., Staples, Kinkos).
Sample messages
"You are enough, always!"
"Be strong, be beautiful, be proud, be you!"
"I want you to know I see you and I support you. —Your friend from state/country"
"You are so loved. Don't ever forget that!"
"I'm so proud of you, just for being you."
"I believe in you. Be true to who you are! —A queer friend"
"You are a gift to this world."
"Stay strong, stay bold, stay true to yourself."
"You are powerful and valuable."
Mailing Your Notes
Once you're ready to mail your notes, we recommend you stack them into a flat-rate mailer or box to send them in bulk. (Please do not enclose your individual cards in sealed envelopes.)
Mail your notes to:
Point of Pride
PO Box 7824
Newark, DE 19714
Please be aware that if you mail your cards via FedEx to the PO Box, the shipment will error out unless you select "FedEx SmartPost," which uses the USPS system in the final leg of delivery.
Note: Many letter-writers also want to cover the cost to process and ship the binders and femme shapewear these cards accompany. If you/your group would like to donate, we recommend $3 per card. This is the average cost of postage to mail a garment within the United States. You may enclose a check payable to Point of Pride or make a separate donation online.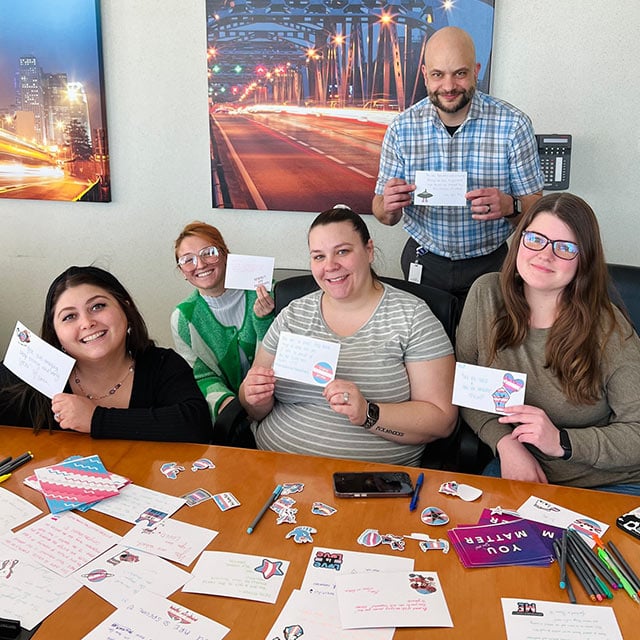 Why Your Support Matters
Trans folks, particularly trans youth, all over the world face challenges simply by existing in systems that often don't provide the support or protections for these folks to be able to not just live but thrive.
In fact, when looking at trans youth, the difference a supportive community makes is huge. Those receiving support from parents in particular are more than 2 times as likely to report life satisfaction, nearly 5 times as likely to have high self-esteem, 4.5 times more likely to describe their mental health as "Very good" or "Excellent," and 0% faced housing issues. Conversely, those without support were 3 times more likely to suffer depression, 15 times more likely to attempt suicide and more than half of trans youth without supportive parents faced housing problems. (Source: transyouth.org)
Additionally, trans folks, particularly trans women of color, are at statistically higher risk of violence. The last several years have been the deadliest on record for trans folks, and that's only including the deaths that are known. Tracking this violence is challenging because people may not be out or might be misgendered in obituaries.
Despite these challenges, trans folks have continued to make incredible contributions to society and become more visible every year. Thank you for taking the time to affirm and empower the next generation.