An Interview with GLMA: Leading the Way for LGBTQ+ Health Equity
With over 40 years championing the health needs of the LGBTQ+ community, GLMA's unwavering dedication stands as a testament to the power of advocacy.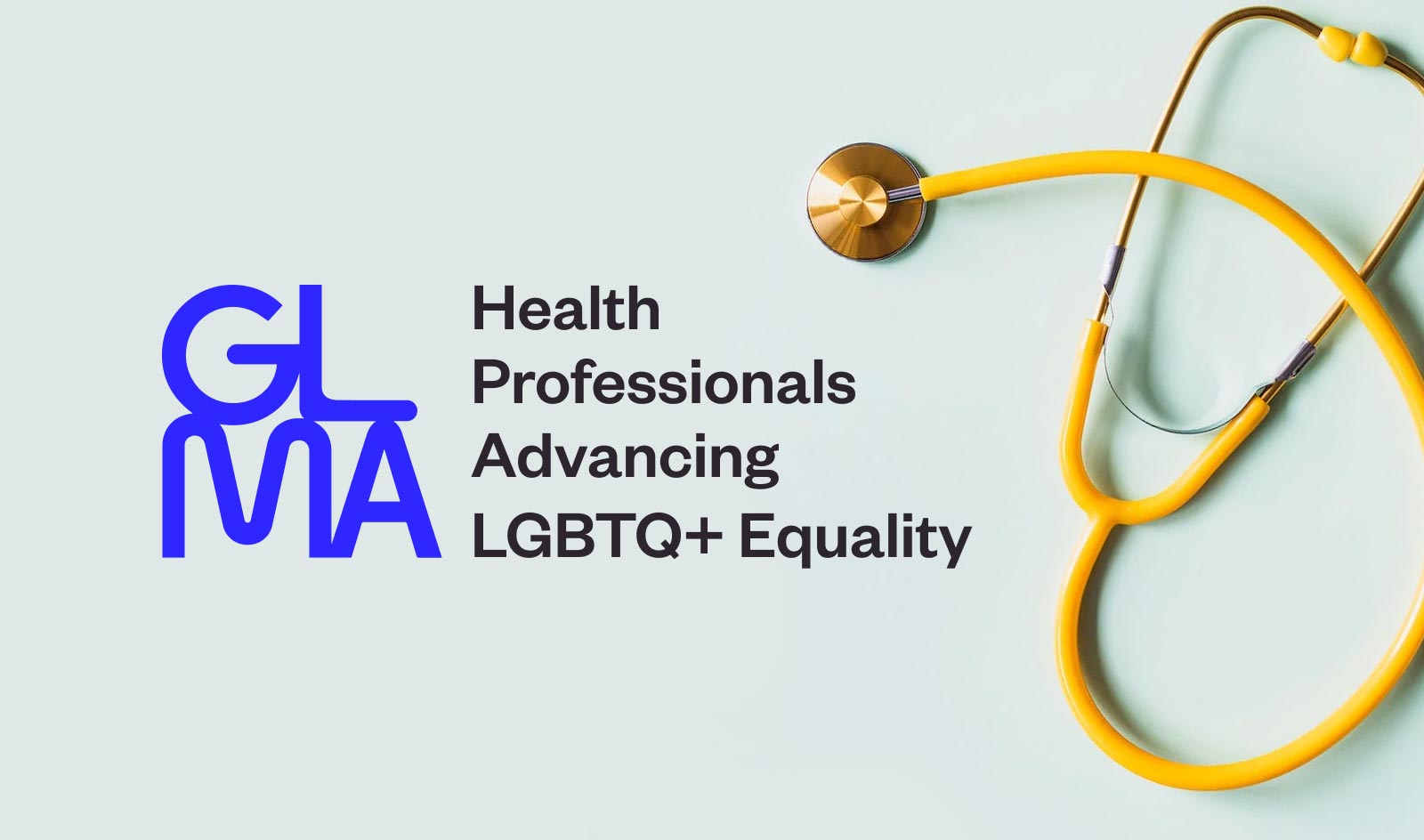 At Point of Pride, we're consistently in awe of the organizations and individuals that amplify the cause of trans rights, representation, and most vitally, health equity. Among these beacon organizations is GLMA: Health Professionals Advancing LGBTQ+ Equality.
Point of Pride is a proud sponsor of their upcoming conference on LGBTQ+ health. "Sponsoring this event means we strengthen our commitment to building a future of inclusive healthcare," shared Aydian Dowling, Engagement and Advocacy Lead at Point of Pride. "We stand fiercely behind this message, and we're thrilled to join hands with GLMA in championing health equity and acceptance for all."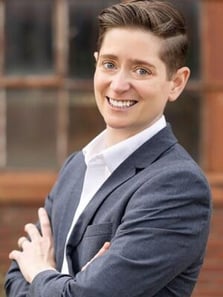 With over 40 years championing the health needs of the LGBTQ+ community, GLMA's unwavering dedication stands as a testament to the power of advocacy. We had the privilege of sitting down with Alex Sheldon, the Executive Director of GLMA, to delve into their organization's mission and achievements.

"What's your mission, and why is it crucial?"
[Alex Sheldon]: "GLMA is the oldest and largest association of LGBTQ+ and allied health professionals in the country. As a national organization, we're committed to ensuring health equity for LGBTQ+ communities and equality for LGBTQ+ health professionals in their work and learning environments. To achieve this mission, GLMA utilizes the scientific expertise of its diverse multidisciplinary membership to inform and drive advocacy, education, and research.
For over 40 years, GLMA has been on the frontlines of LGBTQ+ healthcare, training health professionals in LGBTQ+-affirming care provision, advancing research to better understand and address health disparities, and advocating for inclusive healthcare policies at all levels. But GLMA's work is particularly crucial at this moment in time as we face new and mounting threats, including the most well-coordinated and well-resourced attack on the trans and non-binary community's right to health care."

"What's one of your organizational accomplishments?"
[AS]: "GLMA has a long history of advocacy, education, and research in LGBTQ+ healthcare. The organization went through many changes within the last year, including transitioning leadership, launching a new website, and overhauling our member portal.
But among our most exciting accomplishments was kicking off new educational programming for our members: the LGBTQ+ Health 301 webinar series. This series is a part of our ongoing mission to provide continuing education on LGBTQ+ health, helping health professionals take their practice and education to the next level.
The inaugural series, LGBTQ+ Health 301: Exploring the Intersections of Sex, Relationships, and Health, included three cutting-edge webinars—each led by experts in the field - aiming to provide participants with a nuanced understanding of some of the unique health needs and healthcare experiences of LGBTQ+ patients."
"GMLA's annual conference is approaching on September 28-30, 2023. Tell us more about the event."
[AS]: "Our conference is one of the best ways for people who are new to GLMA to get to know the organization. And this is an exciting year - The 41st Annual Conference on LGBTQ+ Health will be held 100% virtually, allowing us to center inclusivity and welcome a wide range of attendees from all over the world.
Since its inception in 1981, GLMA's Annual Conference on LGBTQ+ Health has served as the premier scientific conference for LGBTQ+ and allied health professionals to share innovative healthcare breakthroughs and interventions, as well as the latest research on LGBTQ+ health. The conference is open to health care providers of all disciplines, researchers, academics, health administrators, policy experts, advocates, and all LGBTQ+ health supporters.
Many health professionals are drawn to the conference for the outstanding number of continuing education credits available to attendees, and this year we are offering up to 30 CE credits!

The schedule includes a diverse range of sessions focused on LGBTQ+ health and wellness. Plenary sessions cover topics such as transmasculine development within socio-structural contexts, mental health support for patients with intersex variations, perspectives on (bi)sexuality and spirituality, and Two-Spirit experiences of neurodiversity.
Concurrent sessions delve into subjects like supporting Black LGBTQ+ youth well-being, combating asexual stigma, comprehensive sexual health history-taking, firearm suicide prevention, and HIV prevention in underserved sexual minority communities.
There are also special sessions featuring prominent figures like Dr. Jesse Ehrenfeld, the President of the American Medical Association, and Dr. Thema Bryant, the President of the American Psychological Association, discussing the state of LGBTQ+ health equity and psychology's role in it, respectively."


---

It's not too late to sign up! Register for GLMA's Annual Conference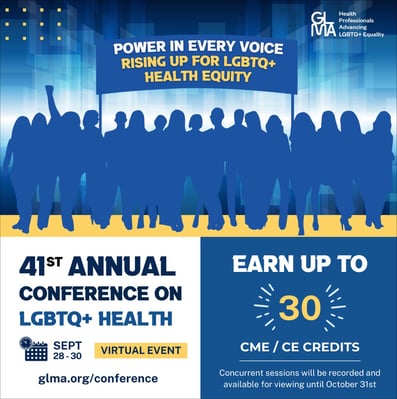 ---

"So many of us in the community struggle to find affirming providers. You created the LGBTQ+ Healthcare Directory to help solve this problem. Tell us more about that, and how you anticipate this tool will change or grow in the future."
[AS]: "The LGBTQ+ Healthcare Directory was created in direct response to the pressing need within the LGBTQ+ community to find affirming and inclusive healthcare providers. This tool aims to bridge the gap between LGBTQ+ individuals and healthcare professionals who are not only competent in LGBTQ+ health issues but also compassionate and supportive.
Since its launch, the LGBTQ+ Healthcare Directory has connected more than 2,700 providers through 43,000 searches across all 50 states. With over 60,000 engaged users, the demand for our services is undeniable. And we've already begun to expand its functionality to make it even easier to find healthcare providers. Users can now search by state in addition to zip codes. This update ensures a more robust search experience, especially for those impacted by restrictions to gender-affirming care. And, recognizing the need for accessible care, our directory now features a dedicated search option for providers offering virtual and telehealth appointments. No matter where you are, inclusive healthcare is just a click away.

In the future, the Directory will continue to evolve and expand its database of LGBTQ+ affirming providers across various specialties and geographical areas. In particular, we hope to include more providers in rural areas, as well as more providers proficient in languages other than English. Additionally, we aim to enhance the experience for both patients and providers by adding educational courses to the functionality. Through this update, providers will be able to increase their skills and earn continuing education credits and specialized badges to post on their profiles, while patients will be able to search for providers by which courses they've successfully completed.
Our vision is for the LGBTQ+ Healthcare Directory to become an indispensable resource, transforming the healthcare landscape for LGBTQ+ individuals by connecting them with affirming providers who prioritize their well-being and dignity."
"What would you say to a trans person who lives in a state where trans-competent care providers are difficult (or impossible) to access?"
[AS]: "Well, first of all, we want you to know that we hear your concerns and frustrations when it comes to accessing trans-affirming healthcare. I've been there. I know what it's like to struggle to find a health care provider who respects you and genuinely understands your unique health needs.
Although things are slowly improving, it is not always easy to find a healthcare provider who knows how to treat trans and non-binary people and, even if you do, affording that care can also be a challenge. Trans people deserve a primary care provider that is both affirming of their identities and also has the knowledge and skills to provide them with the care they need. Be sure to check your insurance policy to see if your costs will be covered by your insurance. If the costs are not covered, you can also ask your provider what other options exist for affordable care.
If you need help finding and affording affirming care, please reach out to GLMA for resources and connections to our partner organizations. We are here to support you on your journey to finding the care you deserve. GLMA members are committed to continuously improving access to trans-affirming care. While progress may be slow in some areas, we are working tirelessly to advance LGBTQ+ health equity. The health professions are evolving, and more health care providers are seeking education and training to provide inclusive care."
"What future projects or goals is GLMA working towards?"
[AS]: "Throughout the next year, GLMA will focus on stewarding partnerships across industries and movements to build power and transform the landscape of LGBTQ+ health care. Collaborating with various stakeholders, including healthcare institutions, tech companies, advocacy groups, and policymakers, will allow GLMA to leverage collective expertise and resources.
By fostering these partnerships, GLMA can work towards systemic change in healthcare, addressing not only medical practices but also the social determinants of health that impact LGBTQ+ communities. This collaborative effort holds the potential to create a more inclusive, equitable, and affirming healthcare environment for LGBTQ+ individuals."
"How can healthcare professionals become involved with GLMA, and what are the benefits of membership?"
[AS]: "Getting involved with GLMA is easy! We are proud to be a professional home for all health professionals, LGBTQ+ and allied, who believe that LGBTQ+ people deserve access to compassionate, affirming health care.
By getting involved with GLMA, not only are they joining an organization with over 40 years of impact in LGBTQ+ health care, but also a vibrant community of thousands of LGBTQ+ and allied health professionals. Together we are building a world where LGBTQ+ patients have equitable access to healthcare, LGBTQ+ health professionals are respected and uplifted in their places of work and education, and health disparities affecting LGBTQ+ communities cease to exist.
GLMA members receive a number of benefits, including professional development opportunities and access to mentorship, network events, and additional resources to build their skills and advance their careers. Some key advantages are the availability of educational webinars to build their knowledge of LGBTQ+ health issues and discounted access to our Annual Conference on LGBTQ+ Health. Lastly, members are able to bring their expertise to bear in our advocacy efforts, utilizing their unique perspectives and experiences to advance LGBTQ+ inclusive policies at all levels and drive lasting systemic change."
"How can individuals, regardless of their professional background, support GLMA's mission and efforts?"
[AS]: "The first thing I would say is this: Now is the time to get involved—wherever you can. Our community and our rights to health care are under constant attack and we need as many people as possible to stand up and speak up.

Getting involved with GLMA doesn't require a healthcare background; it only requires a commitment to promoting LGBTQ+ health equity and a willingness to contribute in ways that align with your skills, interests, and capacity. Your contribution, whether through advocacy, volunteer work, financial support, or awareness-raising efforts, can play a vital role in advancing a more inclusive and affirming healthcare environment for LGBTQ+ individuals, ultimately contributing to improved health outcomes and well-being for the community."
Learn more about GLMA or register for their upcoming conference.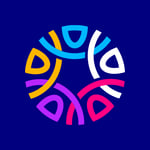 Written by Point of Pride
Point of Pride provides financial aid and direct support to trans folks in need of health and wellness care.