Meet Maze, 2021 Annual Transgender Surgery Fund Recipient!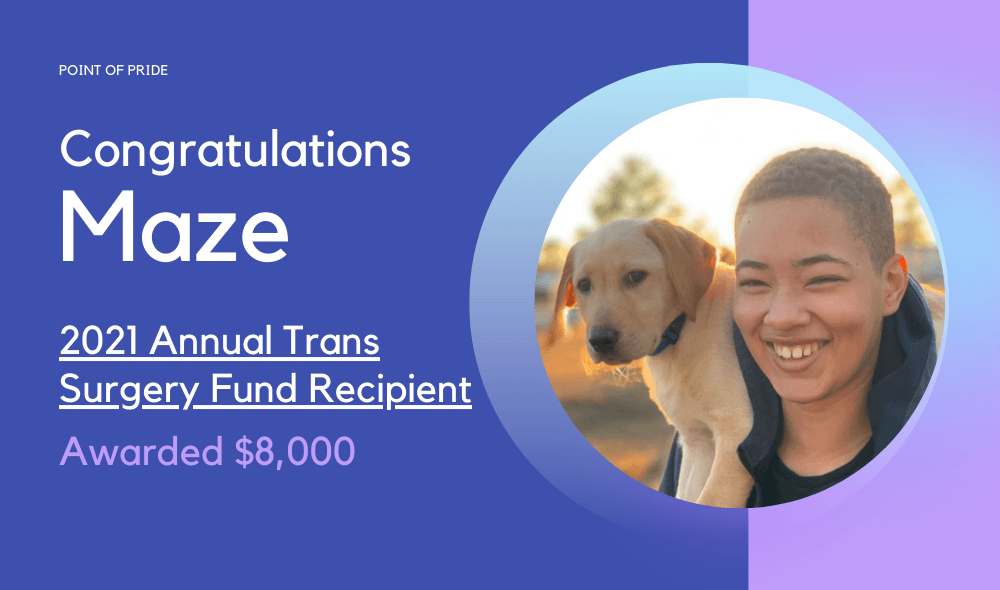 Congratulations to Maze B. from South Dakota who has been awarded $8,000 towards their gender-affirming surgery!
Maze is a 23-year-old Black non-binary person currently seeking top surgery. Maze first began saving for surgery in 2018, taking on multiple jobs and income opportunities to avoid putting financial strain on their family. Unfortunately, in late 2019, Maze's mother was involved in a serious car accident that made her unable to work, and Maze redirected their surgery savings to supporting her and getting her a service dog. Since then, Maze has been financially supporting her in addition to paying for their own needs and education.
Maze is currently on their father's health insurance policy, but is unfortunately not allowed to utilize it for surgery, as their father disapproves of their transition. In addition, Maze has run into repeated challenges trying to research or access trans competent, affirming surgeons in their area: there simply aren't any.
Maze shared, "This surgery will give me a body I can feel at home in every way and feel proud of. I've spent so many years mentally distancing myself due to dysphoria: it will be a breath of fresh air to be free of that burden."
When they're not studying, Maze likes to volunteer and connect with others. "I have a passion for animals that inspire me every day. I have 3 dogs I share my home and heart with and I'm proud to sponsor my mom's service dog as she excels in her service dog training. I've also found a wonderful place in the Furry fandom where I create art and fursuits for people."
They plan to have surgery with Dr. Scott Mosser at the Gender Confirmation Center in the coming months. The Gender Confirmation Center has been a proud sponsor with Point of Pride's Annual Trans Surgery Fund since 2018, and we are so grateful for the work Dr. Mosser does to provide gender-affirming surgeries for the trans, non-binary, and gender-diverse community.