Additional 2018 Annual Transgender Surgery Fund Recipient – Congratulations, Veronica!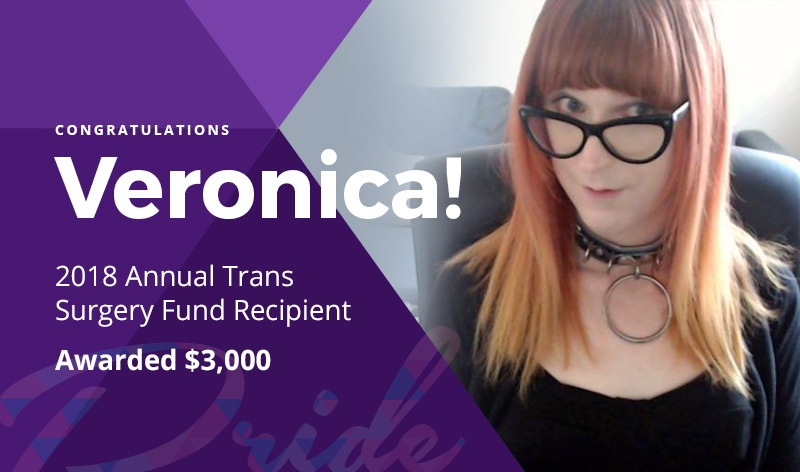 We are proud to announce an additional recipient of the 2018 Point of Pride Annual Transgender Surgery Fund, Veronica!
Congratulations to Veronica W. from Pennsylvania, who thanks to a generous sponsorship from Dr. Sherman Leis, will receive $3,000 towards her gender-affirming surgery!
Earlier this year, after carefully evaluating 699 applicants, Point of Pride awarded $23,000 to our recipients Leah, David, Michael, and Blake-Jorden. When Dr. Leis, a leading surgeon who specializes in breast augmentation as well as other gender-affirming procedures, pledged his generous support of $3,000 for a Point of Pride applicant in need, we were so excited to provide support for another trans person who otherwise could not afford or obtain this life-changing procedure. Veronica is now our 5th funded recipient for the 2018 cycle.
We were moved by Veronica's application, in particular how she described the feelings of dysphoria she still experience on a daily basis, and her struggles with mental health. Like so many others, she fought tirelessly to get insurance coverage towards her surgery until her appeals were ultimately denied. She shared how a supportive wife and chosen family have helped support her throughout her transition. She is hopeful that surgery will give her confidence to continue making positive changes in her life, and one day hopes to go back to school for another degree.
Throughout the year, Point of Pride will continuously work to pair more trans folks in need with funding opportunities. Stay tuned!
We will accept applications for our next funding cycle beginning November 1, 2018. Learn more about the program
To our sponsors, donors, volunteers and supporters: thank you so much for your generosity in your donations, time, and talent to make this all possible. We cannot do it without you. If you'd like to make a contribution to support this life-changing program, please consider chipping in $10.
Finally, we wish to again gratefully acknowledge the generous donations of this year's sponsors: